1000 Books Before Kindergarten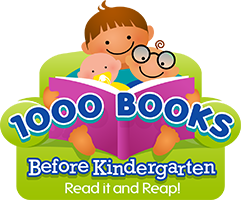 1000 Books Before Kindergarten is an exciting program that helps kids gain the confidence to become strong readers, and encourages caregiver and child interaction through sharing books. The challenge is simple: read a book, any book, to your child with a goal of 1,000 before kindergarten.
Why? Reading is associated as an early indicator of academic success. This provides a simple yet fun approach to early literacy.
How to Participate:
Infants, toddlers and preschoolers are eligible to participate by registering at the circulation desk.
Start reading together. Read a book (any book) and track it on your child's reading log. Yes, you can repeat books!
The program is self-paced and can take a few months to a few years depending on how often you read. When you've read 100 books, bring your log to the Circulation Desk for a special reward!
Ready to get started? Click here for our English online registration form. Click here for our Spanish online registration form. Or contact us at 708-579-1844 or by email fgarcia@hodgkinslibrary.org. 
If you need some ideas about what to read, visit us at the Circulation Desk or check out this book list.